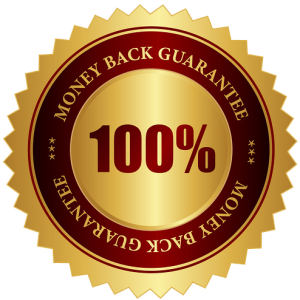 In plain and simple language, we offer a 100% money back guarantee if we cannot provide you with the services for which you paid.  If we do our part, and you do your part, we guarantee that our programs will work for you.  Listed below are the guarantees that we provide for each of our services.
Business Credit Builder Program
The Credit Express guarantees that: (1) we will register your company with the three biggest business credit bureaus in the nation, i.e. Dun & Bradstreet, Business Equifax, and Business Experian; (2) your newly established credit lines will have a total of four levels of credit.  These will include four Net-30 Accounts, four High-End Revolving Accounts, four Mid-Range Revolving Accounts; and four Low-End Revolving Accounts; (3) the top tier creditors will include Mastercard, VISA, American Express, and Discover; (4) you will have approximately $100,000 in established business credit after completing our program; (5) you will complete the program within approximately 12 months; (6) you will have at least an 80 PAYDEX business credit score with Dun & Bradstreet after you complete our program; and (7) you will have an "A" credit rating after program completion (An "A" credit rating is defined by Dun & Bradstreet as a minimum of 80 credit score).
We can't do this all on our own.  You are going to have to do some of the work, too.  Here's what you need to do in order to make our guarantee valid: (1) You cannot use PO Boxes, virtual addresses, or UPS drop boxes as your business address; (2) Only one business can be operating out of each address you send to us; (3) Your business phone has to be registered to your business name – not your personal name; (4) You have to have a valid voicemail set up on your business phone.  Creditors do check for this after hours; (5) You can't already have negative business credit marks; (6) You cannot, under any circumstances, be late on a payment on any of your company's accounts.  This includes payments to The Credit Express; (7) Your company needs to be filed as either an LLC or incorporated business.  There are no exceptions to this rule; (8) With every business account established, you're going to have to make at least one single $50.00 purchase within 3 to 5 business days of the account opening.  This will establish a payment history and credit use history, and it will also allow you to stick to our timeline.  You also have to keep balances within normal and reasonable limits.  Managing your accounts well is crucial to program success; (9) You must make at least three minimum payments on each of the credit accounts that we open.  You will need to make at least three minimum payments on the Net-30 Accounts before you can start on the Low-End Accounts.  You also will need to make three payments on the Low-End Accounts before you can start on the Mid-Range Accounts.  Lastly, you need to make three payments to the Mid-Range Accounts before you can start on the High-End Accounts.  After you make three payments to the High-End accounts, you can apply for business funding; (10) You must return our phone calls and emails within 7 business days.  If you cannot or do not abide by our program's guidelines, our 100% money back guarantee is null and void.
Personal Credit Repair Program
The Credit Express assists clients with removing the following negative information from their credit reports: bankruptcies, charge offs, closed accounts, collections, foreclosures, inquiries, judgments, late payments, negative settlements, removal of "in dispute", repossessions, student loans, and tax liens. We charge $69 monthly for a comprehensive initial credit audit which includes the following services: (1) Assist client in obtaining their credit reports from all three credit reporting agencies – Equifax, Experian and Trans Union; (2) Comprehensive review and analysis of client's credit bureau reports; (3) Comprehensive review and analysis of client's collection letters and recorded voicemails, if any; (4) 1 hour telephone consultation with client; (5) Preparation of analysis with strategy for resolution of negative items being reported on client's credit bureau reports; (6) Add all telephone numbers to "Do Not Call List"; (7) Set up clients with their online private client site which will allow client to check progress of their account; (8) Provide client with credit education materials to the online private client site periodically for client review; (9) Follow up 30 minute telephone consultation; and (10) Assist client with adding up to 10 healthy new items to their credit reports.  Upon completion of the comprehensive initial credit audit, we dispute inaccurate negative items with the three credit bureaus. There will be an ongoing fee of $69 per month to handle all credit repair services. We are so confident in our work that we offer a full refund plus $1,000.00 if a client's credit score does not improve after a 3rd dispute has been filed.  We also offer an absolutely no questions asked cancellation policy.
Other Programs
The following programs listed below are provided at no cost to our clients.  Our fee is paid by the lender(s).
Commercial Real Estate Financing
Hard Money Loans for Commercial Properties
Hard Money Loans for Residential Properties
Home Equity Loans and Home Equity Lines of Credit
Small Business Administration "SBA" Loans
Contact Us
We are more than happy to answer any questions that you may have regarding our Money Back Guarantee.  If you have any questions, comments, or concerns, please email us to info@thecreditexpress.org.
Last Revised: March 11, 2017